Terence Hawkins
   Terence Hawkins, Better known as the "Sax Man" was born in Jackson in a Christian home, where he developed a love for music early from his mother.  He started playing the drums in church at the age of 4. He later developed a love for the saxophone. God has blessed him with a very unique sound of his own, his music has a gospel jazzy flavor. After college he relocated to Detroit MI. to pursue a career in Architecture and design. However it is his passion for music and his love for Christ that truly define him. Terence is the husband of Shantelle Hawkins, and the father of  4 children. Terence has had the opportunity to play with artist such as Dr. Mattie Moss Clark, Michael Brooks and a number of other gospel artist. In 2009 he stepped out on faith and started his own band (Dunamis). Terence recently released his debut album  entitled Meditations.  His purpose is to set the atmosphere so that people may experience Gods awesome power, healing and deliverance.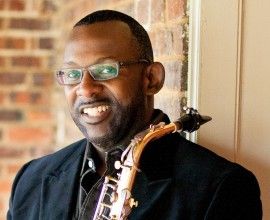 Gospel Recording Artist Shantelle Hawkins  is married to Saxophone Recording artist Elder Terence Hawkins, together they have four  wonderful children.  Shantelle has laid and  travailed on the altar for over (30) years to birth her music ministry career. It was the mighty hands of  God that  anointed her vocals and qualified her to produce an authentic sound that shifts and shakes the atmosphere.

   Shantelle was given the name "Fearless Prophetic Worshipper," because her prophetic praise echoes deliverance  as she bravely goes to war against the powers of darkness and often hear the "Sounds of Victory".

Mrs. Hawkins has travelled from State to State  sharing the platforms and pulpits with many of gospel greats.   She describes her most valued and memorable moments  being the time spent pursuing the presence of the Holy Spirit, witnessing the atmosphere shifting  and yokes being broken off of God's people through worship.

   Shantelle credits her grandmother Evangelist Johnie Ruth Harrell for helping her to develop a love for music and serving God.  Shantelle is employed with the State of Michigan and is a graduate of Michigan State University, where she received her Bachelor's Degree in Criminal Justice.  She obtained her Masters in Business Administration from Spring Arbor University.

   Shantelle is a faithful member of City of Zion Ministries serving as Youth Minister and  Praise and Worship Leader. She doesn't take it lightly to be covered under the  powerful leadership of Apostle James &  Prophetess Carolyn Suddeth.  She is the Founder/Executive Director of Daughters or Promise which is a  faith based teen pregnancy prevention and self- esteem non-profit organization for adolescent girls in Jackson, Michigan. She serves as the gospel choir advisor for Spring Arbor University. 

   Gospel Recording Artist Mrs. Shantelle Hawkins'  truly believes that Praise is our weapon and rejoices in knowing that we serve an awesome God who is able to do exceedingly and abundantly far above all we could ever ask or think.